It can be difficult to understand the impact that a journey can have. It can also be difficult to know what expect from a journey if you're a participant about to embark on one. There are many unknowns and questions surrounding them, and it can be a daunting prospect signing up for one. That's why we're shining a light on our journeys by sharing stories – this one
Day 1: 'Safe Space'
For many, the first day of a Venture Trust Wilderness Journey is the hardest day of all. After a night of excitement, nervousness, and anticipation, it is time for participants to leave their everyday lives behind, pack their bags and make their way to Venture Trust's National Participation Centre in Stirling. As they arrive one by one, the group of women on this Next Steps programme are introduced to each other and to staff. Names are exchanged, stories told, and missed trains raised eyebrows at. It is odd now to think back on this group of strangers, who were soon to undergo a life changing journey together and forge friendships for life.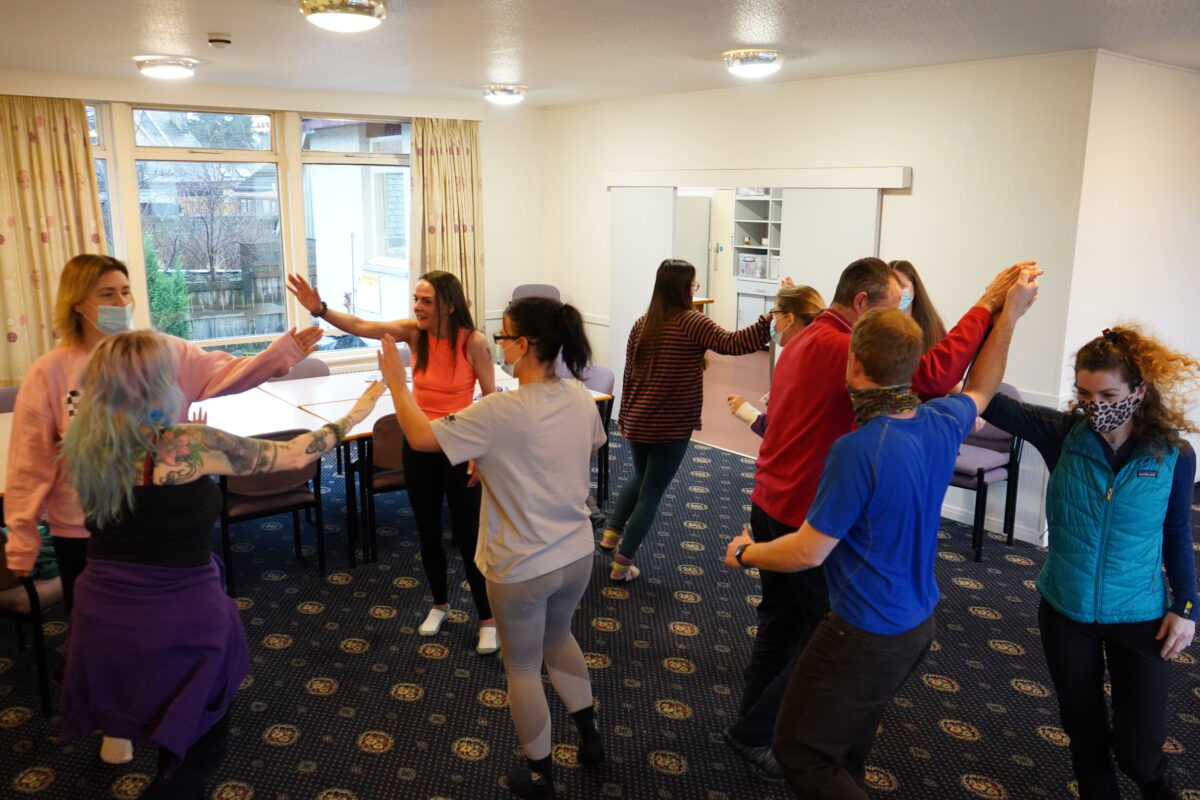 All of that was still to come. First, we were to make our way back to base, and gather together to address the theme of the day, 'Safe Spaces.' Lead by our Senior Development Trainer for the week, the group explored, recognised, and agreed upon what a safe space and supportive environment for the week would look like. This was to be the guiding principle and enduring theme that would run throughout the course, enabling this group of women to begin exploring themselves and what they were capable of.
As our group, kit and all, finally squeezed into the minibus and began our journey northwards to the Cairngorms, the anxiety and nerves slowly melted away into awe. The snow-capped hills, growing taller and wilder as we wound our way up into the National Park, were set off brilliantly by the colours of a beautiful sunset. As conversations drop off one by one, we all gazed out of our windows at the glens, lochs, forests, and mountains framing our drive, wondering just what the week to come would bring.
Day 2: 'Relationships'
Having arrived at base late the previous evening, day two saw us begin to explore our temporary new home nestled in the heart of the Cairngorms National Park. Slowly but surely, we were growing to know one another better, and the morning's development session saw us sharing and bonding over different stories and different life circumstances. The theme for the day was 'relationships' which we explored through a 14 habits session, identifying how we should treat ourselves, be treated by others and how to think about how we treat those around us. Negative and coercive behaviours are identified and moved past, while positive behaviours are discussed and taken on board.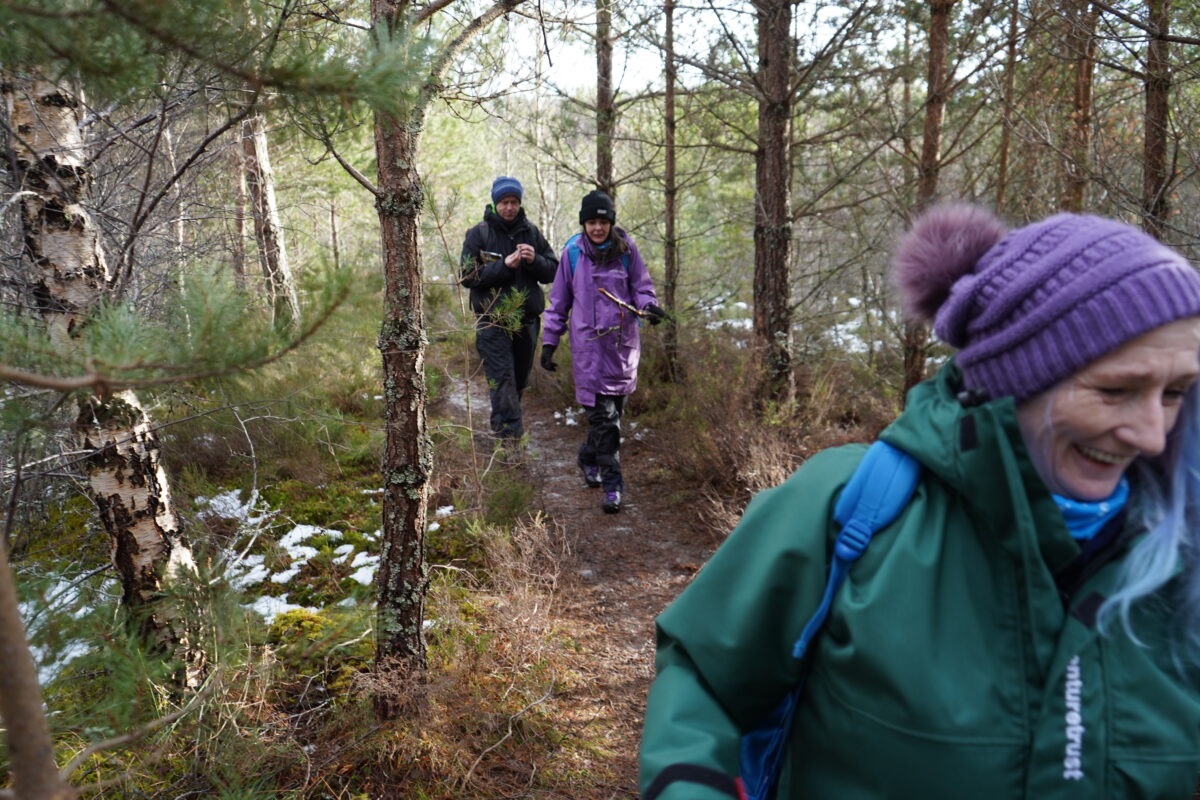 The second half of the day coincided with the sun breaking through stubborn rain clouds that had haunted us all morning. We ventured into the forest as a group, exploring lochans and pine forests, snowy paths, and flooded bogs. Much fun was had as we built miniature reed boats and raced them, with the true winner of the competition a hotly contested topic. Perhaps the most poignant part of the day was when we were instructed to create a forest sculpture reflective of our inner selves, using branches, leaves, moss, and anything else we could find from the forest. This proved to be deeply insightful, helping participants to explore their identities and opening a dialogue of honesty with themselves. As Mags, one of our wild women, raised her forest crown to her head and proclaimed herself queen of the forest, it felt like a very poignant moment – self-confidence, empowerment, and a connection with nature were beginning to shine through. In the words of the group:
'I've connected with nature; I feel like I have something natural that makes me feel happy and calm.'
'It's been an achievement to be in a group.'
'For me it's about having faith in myself and confidence.'
Day 3: 'Needs'
On the third day of our journey, the rain returned with a vengeance. Our spirits were not to be dampened however and we seized the day, ready to take on new challenge and explore new frontiers. The theme for the day was addressing needs, with the daily session focussing on how needs can vary between people and at different stages in their lives. We categorised our needs into categories: "Survival/Love + Belonging/ Self-worth/ Freedom/Fun + Enjoyment". Individually, we shared our understanding of effective behaviour to address these needs, in the short term and the long term.
The themes addressed in the session were woven throughout our day, and as we set forth into the outdoors again, the day took on a rather metaphorical edge. Exploring in the old pine forests of Feshiebridge among a classic Cairngorms landscape of tumbling burns, heather, and undulating mountains, we came upon the Scottish artist Frank Bruce's series of natural sculptures. These are carved from ancient Caledonian pines and dotted among the trees, a tribute to Scottish culture and to our relationship with ourselves. The sculptures are intended to age, with Bruce wishing them to return to the earth from where they came; not only made from the trees and stone around us, but part of our natural cycle of birth, life and decay. This had us considering how we might be more conscious of our relationship with nature, ourselves, and with each other. As we investigated the flora and fauna of the forest – mosses, lichens, pixie cups and devil's matchsticks – one of our group, Helen, put words to how many of us had begun to feel:
'Being among the trees I zoned out and forgot everything going on around me. I felt at peace, and I felt calm. I could feel my heart beating and the trickle of water. I didn't feel like I needed my phone or music or distractions. I just felt at peace. It's the first time I've felt like I didn't need anything. I just needed myself.'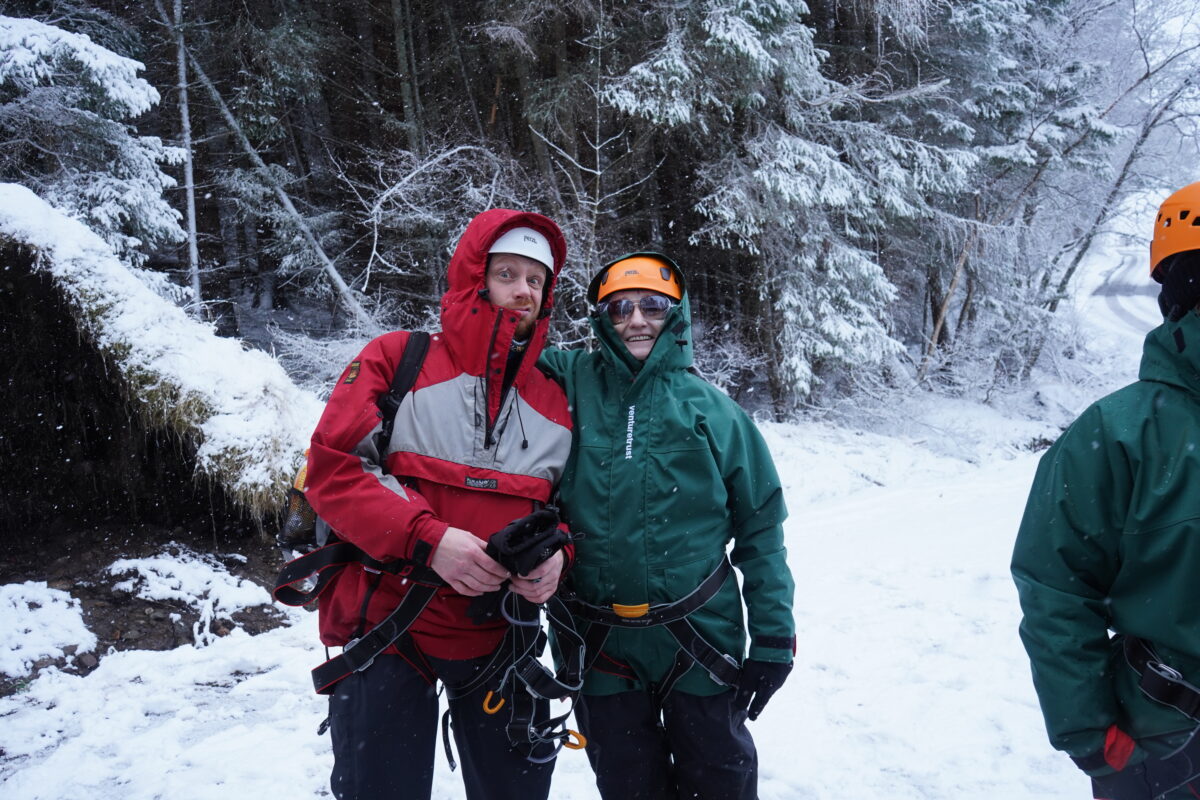 Day 4: 'Moving Forward'
If the previous day had been about building a platform from which to thrive and grow, day four was about leaping from that platform and into the unknown. Today was the day of the much anticipated abseil. Overnight, our forest home had transformed into something out of Narnia, with snowflakes falling big as feathers from the sky and enveloping the landscape in a thick white cocoon. Excellent conditions for beginning to think about Moving Forward, our development theme of the day. The group began to ponder what applying our learning from the course back to our everyday lives might look like. We focussed particularly on moving from comfort zones to stretch zones, and how we might push ourselves to overcome barriers preventing us from realising our potential. A theme that was soon to be explored in a very physical sense as we left base and headed out to the foot of the giant crag 'Creag Far-Leitire' set high up within the forest, where a significant abseil was to be attempted by the group. As we drove to the site, snatched conversations filled the van, words like 'Excited,' 'Happy,' 'Fizzy,' '110% positive,' and 'We'll smash it' exchanged between friends.
Being in the stretch zone proved to be something that this particular group of women very much took in their stride. It was hugely inspirational to see them unflinchingly approach the giant slab of rock, stark against the snow topped trees, carrying themselves with newfound confidence and ready to embrace the challenging abseil with open arms. Not only did the group decline a familiarisation demonstration from staff, they barely batted an eyelid at the twenty metre drop.
In fact, while expressing a small amount of apprehension as they clipped into the rappel, each member of the group whole heartedly threw themselves into the experience, bolstered by shouts of encouragement from below. This despite the snow, ice, and freezing conditions making the entire abseil anything but straightforward. Each member of the team maneuvered the descent with considerable enthusiasm and gusto, even taking the time to absorb the stunning surroundings of loch, glen and forest. A team embrace at the bottom of each abseil made for a warm welcome back on solid ground. It was incredible to see women supporting women in this way, and they were an unstoppable, inspirational force as they all insisted on completing the abseil for a second time, with a huge grin plastered on each and every face. As one participant, Paula, walked away from the Craig, she proudly shared with us:
'If I can do this, I can do anything. I'm thankful for the opportunity and the experience.'
I suspect none of us, staff included, will forget the experience and the feelings of taking on such an epic challenge and witnessing this group of women not only succeeding, but absolutely thriving.
Day 5: 'Making a Positive Ending'
The final day of any trip is a bittersweet experience for everyone involved. Thoughts turn to home, and the emotional goodbyes to come. However, this day is above all a celebration and about acknowledging, and mindfully reflecting on what had been a hugely transformational week for the women on the Next Steps
course. With every member of the group taking the time in these final few days to develop their own individualised action plan, it was important not to think of this day as the last day of their experience, but the first day and first steps towards a brighter future. More than this, each and every woman on the course achieved and acknowledged to the group a level of growth they had previously thought impossible.
The Cairngorms certainly put on a stunning farewell for us, with bluebird skies and perfect snow conditions making us jealous from the inside of our south-bound van. More than one of us threatened to stay in the wilderness forever, among the forest and snow which everyone had grown to love and connect to. One final part of the course awaited us back at Venture Trust's Stirling Centre, as we met for the final time to look back on the course and hold a space for everyone to take to the floor and reflect on their individual journey. With speeches made, life long promises of friendship exchanged, and some quiet tears shed, it was time to say farewell. Fortunately, not without some sage words to end our week on.
'For all I thought I was, I wasn't. Because now I know I am: powerful, strong, and brave.' – Mags
'Being in nature makes me feel alive. People say you only live once, but you only die once. You live every day.' – Jodie
And from the group:
'We are wild women, strong and brave.'
Reflections
Looking back on this trip and attempting to capture the depth of its impact has been a tricky but worthwhile challenge. This Next Steps Journey was a deeply moving experience for all involved and was something incredibly poignant to witness first-hand. What is so special about Venture Trust's Wilderness Journeys is their ability to transform and to act as a catalyst for people who
are looking to change their lives for the better. The combination of time spent away from difficult home circumstances, coupled with the restorative properties of nature, the challenge of outdoor adventure, and not least, the depth of developmental support, consideration and kindness provided by Venture Trust's field team, what has been created is a very special space indeed for women to overcome trauma and to begin taking the steps towards a brighter future. I am very excited to see what our participants will go on to achieve.
A parting note I would like to end this field diary on is the following: we know that participants come to Venture Trust to grow and to learn the skills needed to realise their potential and achieve a brighter future. But what I think is equally, if not more important, is for us to always remember to acknowledge and learn from the experiences of these incredibly strong individuals. To be deeply inspired by the way they overcome adversity and inequality, and challenge the expectations set upon them by others. Wild women, through and through.

If you'd like to learn more about Next Steps and refer yourself or someone you know, click here.