COVID-19 has had a disproportionate effect on people who were already struggling with complex life circumstances. We've responded to meet the need.
Venture Trust staff continue to provide personal development and wellbeing support through face to face and small group interactions, as well as by phone and digital platforms. We are also actively seeking support to combat 'data poverty' for people with limited means to buy airtime or who usually rely on public wi-fi.
Our approach
Reduced social contact, self-isolation and disruption of services is having a disproportionate effect on people who were already in need of our support. We are using our expertise in personal development and coaching to offer support with:
Wellbeing – managing being at home, structure, routines and relationships with others.
Dealing with social isolation – resilience and self-care, helpful resources. Signposting to local and national support and additional services.
Personal development – we will continue to work on meta skills development, self-awareness and goal setting with additional support aimed at those looking for further training and progression to employment.
Looking ahead
At Venture Trust we are prepared to adapt the delivery of our outdoor personal development services for the people we support.
In line with Government and public health guidelines, we have developed a programme format that is compatible with varying levels of COVID-19 related restrictions. We've focused on designing delivery for small groups of participants within their local authority restrictions – so minimising travel, transmission risks, adhering to best practice and the Scottish Government's guidance in these areas whilst retaining our unique approach to training and engagement.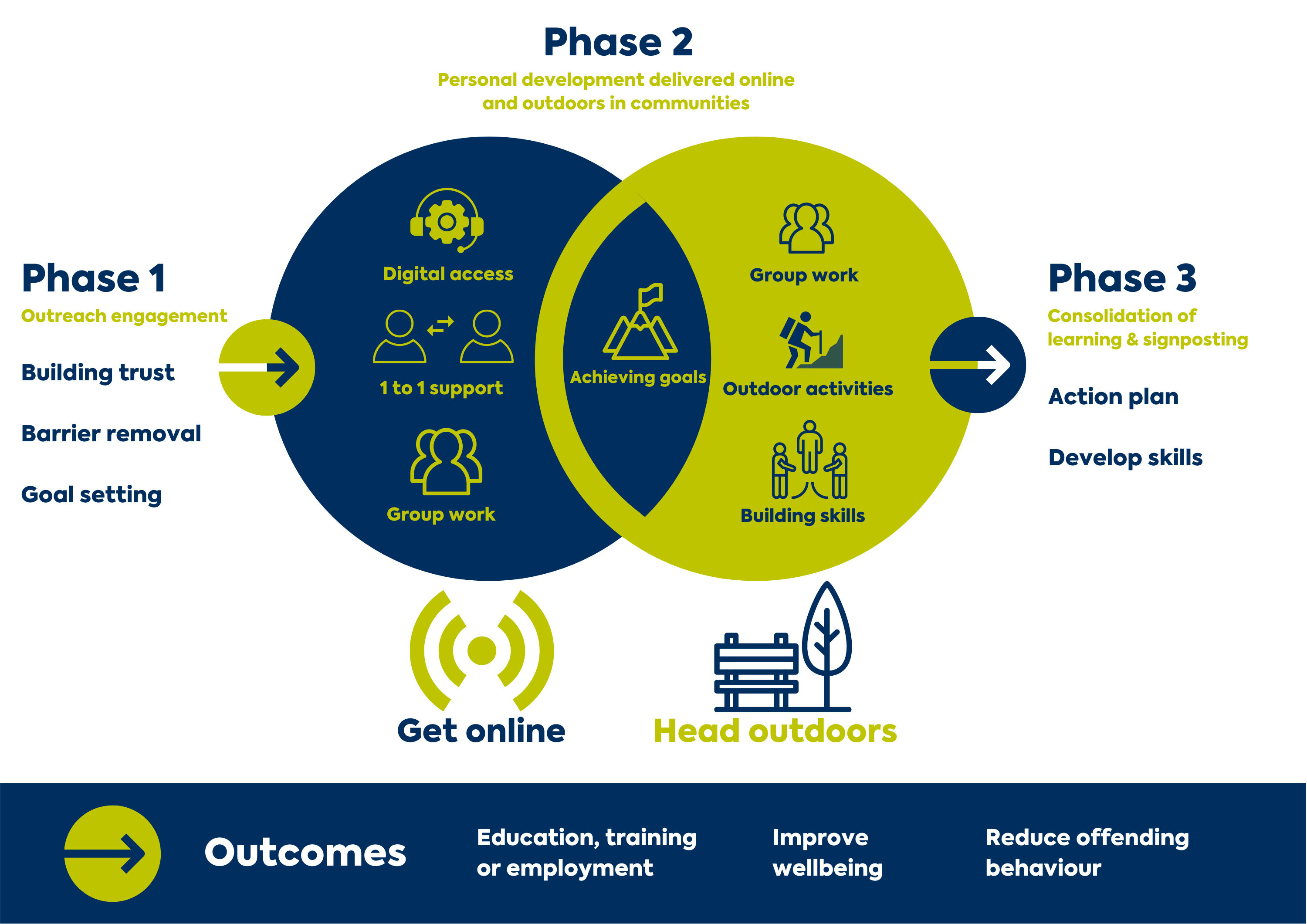 The service will still feature our three-phase approach to delivery:
Phase 1 manages all aspects of assessment and preparation to ensure that we build positive relationships and individuals have developed suitable goals and objectives to make the most of the learning opportunities.
Phase 2 provides a range of activities for experiential learning through digital and outdoor delivery. The groups will be introduced to a range of concepts such as Kolb's Learning Cycle and the principles of Choice Theory, which provide the skills each individual needs to understand the consequences of their thoughts and behaviours.
Phase 3 of the service provides flexible, responsive and individually tailored support to participants. Using each participant's unique action plan as a foundation, personal development support is available to each individual for up to six months after completion of Phase 2.
The service will focus on personal development by using a combination of digital group work, one-to-ones and local activity days. The nature of a responsive service designed to meet the unique needs of the participants, their access to digital technology, the nature of urban, semi-rural and rural delivery, alongside potential changes in local restrictions, means that individual programmes may vary but will all include key sessions on:
Building effective relationships
Problem solving
Choosing effective behaviours
Goal setting
Action planning
It is anticipated that each Phase 2 element will include at least three outdoor based activities alongside digital or in person development, planning and review sessions.
We are hopeful that we can resume wilderness journeys in early Summer this year and we anticipate the blended model above to run alongside.
If you have any questions around our delivery or procedures please get in touch.